Find a Medicare Agent in Middletown, CT
Top Rated Medicare Agents in Middletown, CT
Featured licensed Medicare Agents servicing clients in Middletown and throughout Middlesex County in Connecticut. These local agents are our top picks, and are ready to help you navigate through all of the most important parts of signing up for Medicare.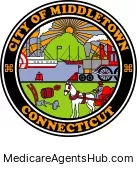 Middletown Medicare Agent Directory
At MedicareAgentsHub.com, we are here to help the residents of Middletown, CT find qualified, licensed, and top-rated local Medicare insurance agents. Our directory features many agents who are licensed to do business in Connecticut and who can assist with all of your Medicare insurance needs. Did you know that Middletown is home to Wesleyan University, a prestigious liberal arts college founded in 1831? The city also boasts several historic sites, including the General Mansfield House, which was built in 1819 and is now a museum showcasing life in the early 19th century.
Use our free online directory to find Medicare insurance agents in Middletown zip codes 06457 and 06459.
Why work with a Middletown Medicare Agent?
Working with a local Medicare Agent has many advantages over direct enrollment or working with a nation-wide agent. Think of a local agent as a family friend whos serves as your trusted guide to help make Medicare easy.
Local agents take extra time to understand your personal situation and understand what everyday life is like in Middletown. Choosing the right Medicare Plan is never cookie cutter and depends on your geographic location and personal situaton.
Believe it or not, Medicare plans in Middletown Connecticut may not have the same costs as the very same plans in another area - even within Middlesex County! Local Medicare Agents can provide accurate quotes and help you compare and choose Medicare plans in real time.
Education is where having a local Agent really pays off. One could easily spend hours online learning about all the different types of Medicare plans. Agents familiar with Middletown will be able to explain everything you need to know about Medicare, without information overload.
Wondering whether or not you are eligible for every type of Medicare you need? Medicare Agents in Middletown are able to help you quickly determine your Medicare eligibility and help you choose which plan(s) are right for you.
These Connecticut-licensed Medicare insurance agents located in and around Middletown are ready to help you.
Looking for a Licensed Medicare agent or broker in a more specific location? Enter your zip code into the box below.
Connecticut Medicare Articles
Helpful information and articles to help you learn about Medicare.